spreading the power of
mushrooms in the
most delightful
ways possible…
alice is your trusted guide for mushroom exploration.
she is a seeker of delight, a companion of the
unknown, and a student
of the mind.
alice will
indulge your
inquisitiveness and
your hunger.
and light
you mysterious new
paths. walk them
with her,
curiouser and curiouser…
long term benefits, instant effects
Alice was born out of a desire to give people what neither the pharmaceutical industry nor supplements have provided: safe, effective consumables that pair long-term benefits with immediate boosts to cognitive functioning.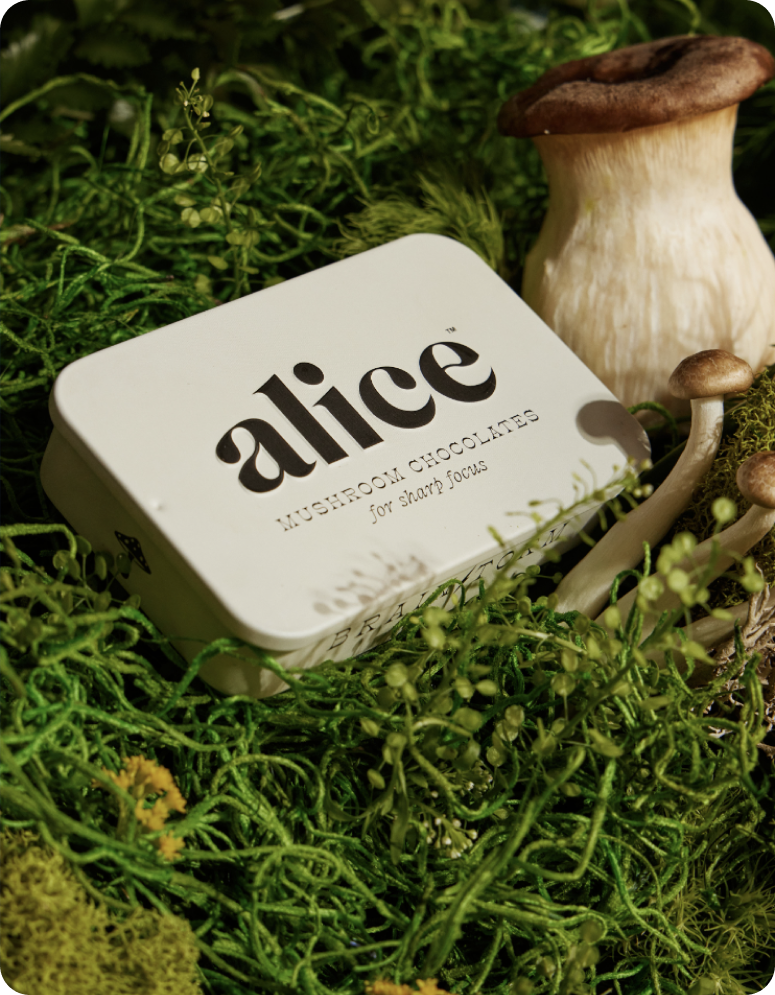 a wellness routine that you can look forward to.
We spent two years working with homeopathic doctors, teams of formulators and chocolatiers to create something powerful and delicious—part of a wellness routine that you can look forward to each day.

a difference
you can feel
.
Our decadent chocolate treats combine the best organic, fruiting-body mushrooms with the best nootropics and adaptogens. This union pairs the long-term benefits of mushrooms with the immediate effects of the nootropics, and keeps you on your journey into the delights of fungi. The result: an indulgent daily routine that's good for you and only gets better with time.
Alice is a female-founded company created by Lindsay Goodstein, a creative director, community-builder, and former pharmaceutical executive who has spent years studying mushrooms, and Charlotte Cruze, a food scholar and wellness authority who has built inventive, forward-thinking food brands. The duo spent two years collaborating with homeopathic doctors, formulators and generational chocolatiers to develop naturally indulgent treats that highlight the power of mushrooms.
advocating for
all mushrooms
.
Although Alice products highlight functional mushrooms, we are passionate about the potential for psilocybin mushrooms to help heal trauma, manage everyday stresses and bring people joy. Alice donates a portion of profits to
The Hope Project
and is a founding member of the
Microdosing Collective
, two non-profits advocating for access to psychedelic support and research.